Marine Corps League's 6th Annual Exhibition Set For July 22-24 In D.C.
Managers of the Marine Corps League-sponsored "Modern Day Marine—Force in Readiness Military Exposition" have announced that over 80 percent of the 95,000 square feet of exhibit space in the Sheraton Washington Hotel has been committed for their scheduled July 22-24, 1986, military exposition.
Nearly all of the 115 defense contractors who participated in the 1985 exposition have contracted for space for the July event and many other companies are entering for the first time.
The theme for this year's exhibition is "Power Projection—From The Sea." This annual defense industry trade show is conducted at the Sheraton Washington Hotel in Washington, D.C. The hotel's 95,000 square feet of indoor exhibit space, along with its convenient location, make it an ideal site for this activity.
Between 6,000 and 7,000 visitors are expected to tour the exhibits during the three-day exposition and to participate in related functions which will include industry technical seminars, an enlisted awards luncheon and a formal banquet. Vis- itors in 1985 included members of Congress and their staffs, Department of Defense officials, senior executives of some of the nation's largest businesses, and more than 3,000 Marines and fellow service members from East Coast bases. An especially large number of "Gator Navy" and representatives of foreign governments also were in attendance.
The exposition is international in scope with participating companies from the United States, Belgium, Canada, France, Germany, Israel, Italy, Switzerland, Singapore and the United Kingdom.
The purpose of the annual show is to provide an opportunity for present and potential defense, supply and service contractors to display and promote their products, and to provide an opportunity for the free exchange of ideas between suppliers and users.
This unique marketing opportunity also provides three days of intense visibility to high-level decision makers; facilitates the development of contacts; provides media exposure within the international defense community; influences name recognition and has special appeal to firms interested in enhancing their reputations as major defense suppliers in U.S. and international markets.
In addition to the exposition, a formal reception and Grand Banquet will be conducted on Wednesday, July 23, 1986.
Industry technical briefings, a new feature of the 1986 exposition, will be scheduled during the show.
Industry officials are encouraged to take advantage of these briefing opportunities.
Managers of the exposition will aid in the development of special invitation lists designed to attract an audience with special interest in the subjects being presented.
A USMC Enlisted Awards Luncheon will be held on Tuesday during the exposition and will honor four enlisted Marines and one Fleet Marine Force Navy medical or dental corpsman for distinguished contributions to combat readiness in the Fleet Marine Force.
As a result of the successful experiences in the 1984 and 1985 shows, officials of the Marine Corps League are again encouraging the concept of pavilions. These pavilions are intended to permit countries or industry groups to assemble their defense products as a single entity, complete with nationalistic or industry theme and decor. For example, a special pavilion designed to accommodate electronics manufacturers is also being considered. The pavilion concept is designed to permit military and other decision makers an opportunity to view the capabilities of each nation and manufacturing group as a single potential resource group, rather than through separate displays throughout the vast exhibit facilities.
For further information regarding participation in the exposition, contact Becky Lower or Col. Jim Bracken, USMC (ret.), Capitol Convention and Exhibit Co., 25 S.
Quaker Lane, Suite 24, Alexandria, Va. 22314. Telephone: (703) 823- 2333.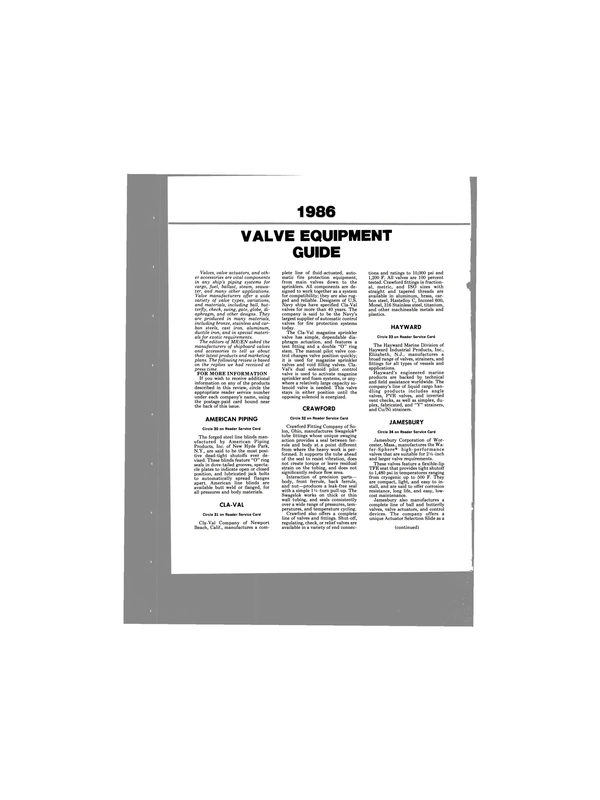 Read Marine Corps League's 6th Annual Exhibition Set For July 22-24 In D.C. in Pdf, Flash or Html5 edition of March 1986 Maritime Reporter
Other stories from March 1986 issue
Content